Power over Ethernet (PoE) is a technology for wired LANs. This allows a single cable usually Ethernet cable to provide both data connection and electric power to devices such as IP cameras, NVR recorders, wireless access points, etc. A PoE switch, compared with other Gigabit network switches, has power over Ethernet injection built in. This feature allows end-user to power PoE capable devices without the need for a separate power supply or the need for an electrical outlet near the powered device. If you have read about the how-to-understand-poe-and-poe-switches, you must know clearer about the difference between PoE and PoE+ switches. However, today's article will help you understand active PoE and passive PoE.
What is PoE Switch?
As mentioned before, a PoE switch not only supply power to devices but also carries network connection. In general, a PoE switch usually contains multiple Ethernet ports, e.g. a PoE switch with 8 ports, PoE switch with 16 ports, 24 ports PoE switch, or PoE switch with 48 ports. If you are looking for PoE switch to cover all your devices, it's important to check the port number first.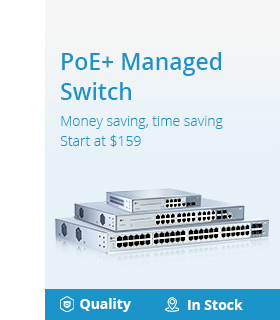 The following image shows the 8-port PoE managed switch.
Passive Power over Ethernet vs. Active PoE
To safeguard a voltage range, the Power over Ethernet devices must communicate according to established procedures. In simple terms, active PoE refers to any type of PoE that negotiates the correct voltage between the switch and PoE-powered device. Passive PoE does no such negotiation, and as such is always sending electric current out over the Ethernet cable at a certain voltage regardless of the device it's going to.
Active PoE
If your PoE switch uses 48V 802.3af or 802.3at standard, it is considered to be active PoE. The power supply unit inside the active PoE switch usually tests the connection before providing the supplying voltage, meaning that PoE switch will check the power coming in, and if it doesn't meet the device requirement, it won't power up.
Passive PoE
Passive PoE refers to any devices using PoE that is not 802.3af or 802.3at. Unlike active PoE switch, In passive PoE, no negotiation takes place between the two devices, but instead the known cable layout is used from Standard 802.3af, mode B. Therefore, it is extremely important to know what PoE voltage your devices requires before plugging in the Ethernet cable and powering it up. If you connect the wrong voltage, you may cause permanent electrical damage. Passive PoE is like plugging a 120V appliance into a 240V outlet, but with devices than cost much more than a simple toaster.
Conclusion
The big advantage of Power over Ethernet switch is that it allows greater flexibility in locating devices, as you don't have to be situated near a power source—power is carried to them right in the Ethernet cable. That also frequently results in significantly lower installation costs, especially where many Access Points must be setup. The difference between Passive PoE and active PoE switch is quite obvious. For more, you can go through previous articles.